This website is run by Social Circus International

a small not-for-profit company registered in the UK., Reg No: 10865040
The aim of this website is to explain a little of what social circus does across the world,
so that people across the globe can understand the value of Social Circus. You can find out a lot more at Social-Circus.com
---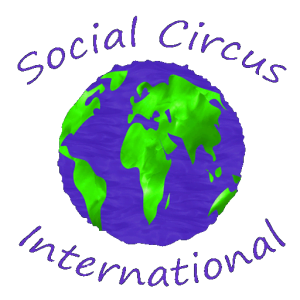 The Aims of Social Circus International are:
Our Mem & Artics say this:
The objects of the Company shall be to carry out the following as a social enterprise company:
TO ACT AS A RESOURCE FOR PEOPLE – (PRIMARILY YOUNG PEOPLE [CHILDREN] AND YOUNG ADULTS [TO AGE 26], BUT NOT EXCLUSIVELY – BY ORGANISING PROGRAMS OF ACTIVITIES, EDUCATIONAL AND OTHERWISE.
AS A MEANS OF:
A) HELPING PEOPLE BY DEVELOPING THEIR SKILLS, CAPACITIES AND CAPABILITIES TO ENABLE THEM TO PARTICIPATE IN SOCIETY AS INDEPENDENT AND RESPONSIBLE INDIVIDUALS;
(B) ADVANCING INFORMAL AND FORMAL EDUCATION OPPORTUNITIES;
(C) PROVIDING ACTIVITIES IN THE INTERESTS OF SOCIAL WELFARE FOR PEOPLE LIVING IN THE AREA OF BENEFIT WHO HAVE NEED – BY REASON OF THEIR AGE, GENDER, ETHNICITY, RELIGION, EDUCATION, INFIRMITY, DISABILITY, POVERTY, SOCIAL AND ECONOMIC CIRCUMSTANCES – WITH A VIEW TO IMPROVING THE CONDITIONS OF LIFE OF SUCH PERSONS.
Area of Benefit
UNDEFINED, IN PRACTICE, OVERSEAS.
What
• EDUCATION / TRAINING
• ARTS TRAINING AND DEVELOPMENT (CIRCUS ARTS IN PARTICULAR)
• PERSONAL AND SOCIAL DEVELOPMENT
• SPORTS AND HEALTHY ACTIVITIES
• DEVELOPING CIVIL SOCIETY; HUMAN AND CIVIL RIGHTS; CITIZENSHIP AND COMMUNITY DEVELOPMENT
Who
• CHILDREN / YOUNG PEOPLE
• ADULTS AND OLD PEOPLE
• PEOPLE LIVING WITH DISABILITIES
• PEOPLE DISADVANTAGED IN ANY WAY
• OTHER DEFINED GROUPS
How
• FUNDING EMPLOYMENT FOR LOCAL WORKERS– TEMPORARY AND FULL-TIME
• RUNNING ACTIVITIES AND PROGRAMMES OR TRAINING AND EVENTS
• SUPPLYING MATERIALS AND EQUIPMENT
• PROVIDING SERVICES
'"CIRCUS" and "CIRCUS SKILLS" and "CIRCUS ARTS" as defined herein includes but not exclusively: Circus Arts and Skills; Theatrical Arts and Skills; Music, Movement, Dance, Acrobatics and Gymnastics; BMX, skateboarding, parkour; Shows and Spectacle and Events in the Outdoors; film-making, photography, audio-making, radio-broadcasts relating to capture of live events and documentary-making of the activities and trainings'.
---
If you run a Social Circus project and want to join a network then go to 
Social-Circus.com